Empty Homes Scheme
No Use Empty: is there an empty home near YOU?
Home Turf Lettings provides empty property owners with cash grants and interest free loans to finance the refurbishment of empty properties in Bristol, South Gloucestershire and Bath & North East Somerset.
Thanks to a grant from the Department for Communities and Local Government, and support from Bristol City Council, South Gloucestershire Council and Bath & North East Somerset Council, we are able to contribute up to £7,000 per unit towards the costs of refurbishment.
We can handle all aspects of the refurbishment, as well as the subsequent letting and ongoing management of the property. So not only do you get "free money", it really is a "zero hassle" solution.
As long as the property has been empty for 6 months or more and, after refurbishment, is let out at an affordable rent for at least 5 years afterwards, we can help you bring your empty back into use and earning you an income.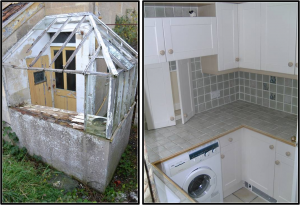 If you own an empty property, or know of one that you would like to see brought back into use as affordable housing, please call Mark on 01225 478730 or email hello@hometurflettings.co.uk.